Hermes Kelly bag 32 Retourne Craie Clemence leather Gold hardware
Product code : msk2913805
Hermes Kelly 32cm.
Craie, which is the French word for chalk, is one colour that has the ability to change asphalt pavements into infinite canvas art pieces.
Kelly, a bag with a beautiful structure which exudes an aura of grace.
No matter which angle you look at this bag, you will see an impeccable and iconic structure, thus making it one of the most coveted and sought-after bags that every woman wants.
Created for the 2013 Autumn Winter collection, Craie is a predecessor of a great variety of light colours by Hermes, such as the chic Pear Grey, Parchemin and Beton which was recently created for the 2013 Spring Summer collection.
The beauty of the Clemence leather is that it develops a character as it ages and after usage.
This leather is an epitome of premium quality with its delicate finish and serves to accentuate a look which is reminiscent of femininity.
Savour the soft and pliable texture of the Hermes leather and discover how this durable grainy leather is also a hardy material as it is resilient to scratches and dirt even when used daily.
Achieve the ultimate formal and informal combination with this Hermes ivory colour that will help you to spruce up your appearance for any casual or dressy occasions.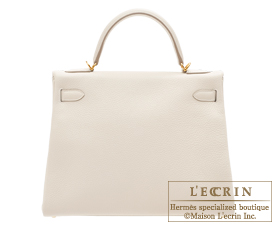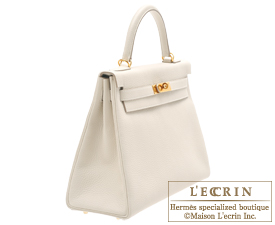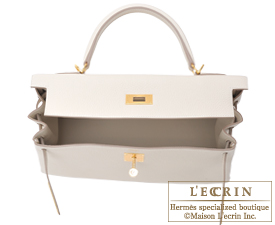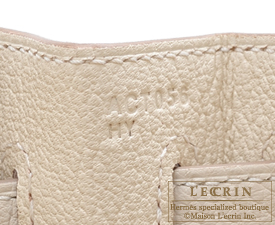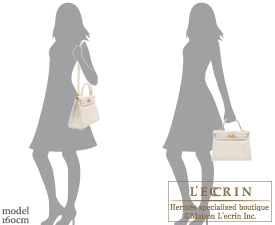 Tax Free Price
JPY
---
Model
HERMES KELLY 32
---
Color
Craie
---
Material
Clemence leather
---
Hardware
Gold
---
Measurements
(W)32×(H)23×(D)12.5cm
---
Accompanied by the original Hermes
Shoulder strap,Padlock,Key,Raincover,Box,Cotton bag
---
※All measurements are approximate.