Hermes Birkin bag 30 Sauge Clemence leather Gold hardware
Product code : msbk2815206
Hermes Birkin 30cm.
From a perennial plant, the evergreen grayish green herb, Sauge is born. A subtle color which is a natural gift by the nature, exudes freshness and softness.
Annually, these splendid themes and never- ending comtemporary colors from Hermes are so widely adored by all generations.
In celebration of the deep connection of the wild spirit of gallop and the honor of nature, creations of these lively and carefree new colors was how it started.
The beauty of the Clemence leather is that it develops a character as it ages and after usage.
This leather is an epitome of premium quality with its delicate finish and serves to accentuate a look which is reminiscent of femininity.
Savour the soft and pliable texture of the Hermes leather and discover how this durable grainy leather is also a hardy material as it is resilient to scratches and dirt even when used daily.
Shade of color mixed in Gris Tourterelle and Khaki, like a symbol color of the Hermes theme of the year.
Be enchanted by the attractive color like the natural atmosphere.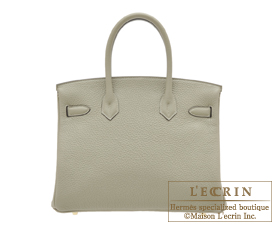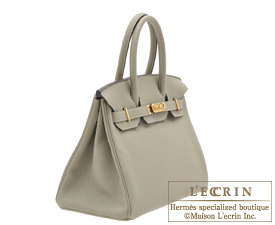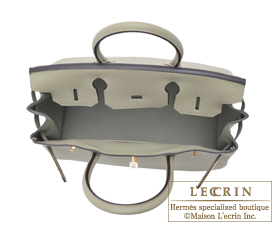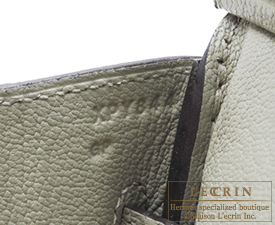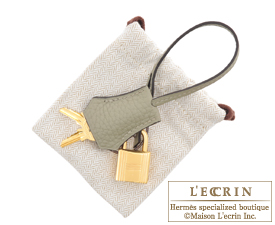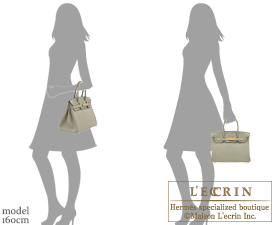 Model
HERMES BIRKIN 30
---
Color
Sauge
---
Material
Clemence leather
---
Hardware
Gold
---
Measurements
(W)30×(H)22×(D)16cm
---
Accompanied by the original Hermes
Padlock, Key, Raincover, Box, Cotton bag
---
※All measurements are approximate.