Hermes Birkin Ghillies bag 30 White/Pearl grey Swift leather Silver hardware
Product code : msbk2403009
Hermes Birkin Ghillies 30cm.
Showcasing the premium collection of Birkin Ghillies which are crafted by the artisans of Herm?s who were once craftsmen of the famed Ghillies shoes.
The Birkin Ghillies collection was created for the 2012 Spring Summer collection and was inspired from the ancient dancing shoes of the Celts.
Adopting premium finishing to grace the Ghillies bags, it is a demonstration of superb craftsmanship which is seen even in its punched work.
The cloche comes with a tassel which can be fitted into the pocket cove containing the keys to the bag.
The charm of the Swift leather has its origins in its characteristics of a unique soft texture and attractive leather.
Crafted from soft calfskin, the leather is an epitome of premium quality with its delicate finish and serves to accentuate a look which is reminiscent of feminine curves and the beauty of silhouettes.
The classical and avant garde fuses in this elegant shade of Pearl Grey and White, which brings out the dignity and purity of a luminescent pearl.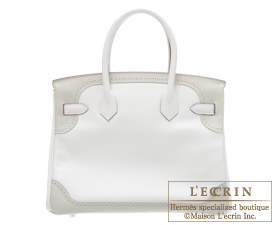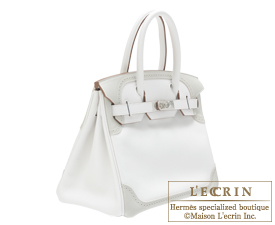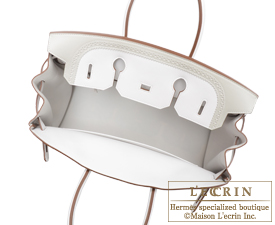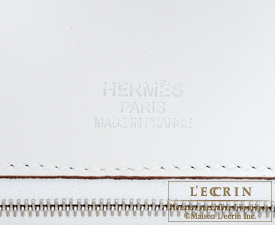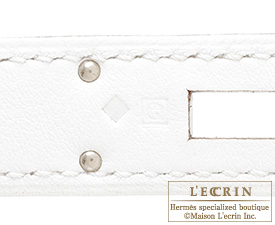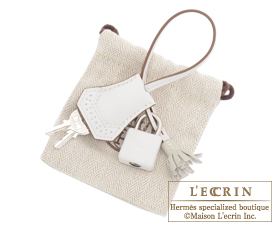 Model
HERMES BIRKIN GHILLIES 30
---
Color
White/Pearl grey
---
Material
Swift leather
---
Hardware
Silver
---
Measurements
(W)30×(H)22×(D)16cm
---
Accompanied by the original Hermes
Padlock, Key, Raincover, Box, Cotton bag
---
※All measurements are approximate.